Thank you for your interest in donating! We currently accept donations via Bitcoin and PayPal. Please see the information below on how to donate. If you have questions please ask on our forum or if there is a problem donating file a support ticket. It is suggested that you set up your bitcoin account at Blockchain.info to use for buying or earning bitcoins to donate. A note that using PayPal to donate charges a 10% commission charge to cover PayPal and Bitcoin conversion fees; we recommend you use Bitcoin but the PayPal option is there if you want it.
For PayPal Donations please click here.
If there is a problem contact us through here.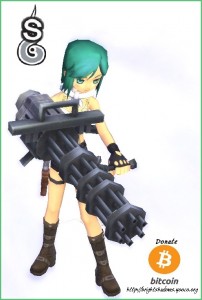 Click the banner above to go to the donation page, or copy/paste the link below into your browser.
https://selly.gg/@Shana
    What is Bitcoin? (C)Bitcoin-chan Project Bitcoin-chan Widget
How to get Bitcoins for donating. Bitcoin.it wiki howdoyoubuybitcoins.com virwox.com Places to earn Bitcoins. coinality.com bitgigs.com